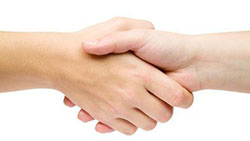 Navigating the Buying Process
As a Gamble Team client you'll benefit from our team specialization and expertise at every step in the home buying process: from financing and pre-approvals to closing and taking possession. MOST importantly, make sure you know who is representing who in the real estate transaction!
Trying to determine how much home you can afford? We will guide you through all the things to consider and can even get you in touch with a mortgage banker to get that important pre-qualification letter. With a listening ear, our designated buyers agents will sit down and consult with you to understand your wants, needs and desires – the kinds of things that make a house a home to you. Whether you're the client who researches and identifies the specific properties you want to view or the client who wants us to completely guide you through the searching process, The Gamble Team's familiarity with the community and search tools can effectively and efficiently locate homes that fit your search parameters – including For Sale By Owner, properties not yet on the market, and properties you may not have even contemplated. Applying an eye for positive attributes and potential problems, our Agents will tour each home with you, pointing out reasons the property may or may not be the right home for you and your lifestyle.
Once you've found the home you want to buy, we will guide you through the pre-offer tasks such as determining the home's real value, consideration of the resale potential, and understanding the disclosure items in regards to the property. You can be certain you are evaluating a home thoroughly based on what matters to you and what makes sense. With honesty and a straightforward style, negotiation (Trained by the Harvard Law School on Negotiation)is one of The Gamble Team's biggest strengths – a real asset when you're ready to make an offer and negotiate a home purchase.
Our goal is to aggressively represent your interests toward a positive outcome. There's confidence knowing you are well represented and that you won't miss important contract timelines and deadlines, something that can cost you money if it occurs. As the process continues with inspections and tests, count on The Gamble Team to assist you in understanding what to do when.
Using proactive and thorough communication, we'll be there to address problems and challenges that may arise such as home inspection repairs, appraisal issues, termites, and others. And we're responsive, going above and beyond to make sure you are in the know. This simplifies your home buying transaction and reduces the stress and concern that Buyers sometimes have. We have relationships with the best Title Companies in town who specialize in insuring "clear title to your home as well as ultimately closing the transaction.
We believe that our title company of choice is the best in town, for the fact that they have the ability to do remote closings, which means we can close at your home or office if that is convenient for you.
Finally, the closing day will arise! We will sit beside you on the day of closing, ensuring you fully understand all the paperwork in regards to closing your loan. We are available to assist with any possible issues. We hope to make your experience with The Gamble Team one you will tell your families and friends about. Ultimately we strive to give you peace of mind and make you feel like the valued client that you are.